Q2. Typical weathering zones forgranite rock are shown in Figure 2.0. Changes inthe rock material properties and composition occur in Zone 1through Zone 6. Answer the following questions.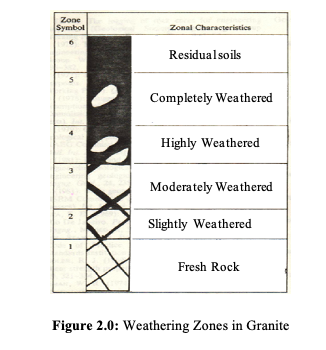 State whether the statement listed in Table2.0 is correct or wrong?
Table 2.0: Statementon weathering zones
| | |
| --- | --- |
| Descriptive statement | Correct / Wrong |
| Based on the nature of material, Zone 3 andZone 4 are more homogeneous than Zone1 and Zone 6. | |
| Coring in Zone 4 will give Core Recovery Ratio(CRR) of less than 70% | |
| Material heterogeneity is associated with Zone1 and Zone 2 only. | |
| Rock material of Grade I can occur inZone 4 and Zone 5. | |
| Angle of slope excavated in Zone 1 will have tobe smaller than the slope excavated in Zone 6 | |
In substrata investigation (e.g. borehole exploration), explainbriefly why it is important to estimate the depths of various zonesin the weathering profile (i.e. Zone 6 to Zone 1)?
Majority of Kuala Lumpur area is underlained by Limestonebedrock. Being sensitive to chemical weathering, limestone exhibitscertain geological features/structures which affect design of deepfoundation.
State what is the major mineral composition of limestone thatmakes it very susceptible to chemical weathering?
Following the effect of chemical weathering, limestone displaysa unique geological feature. State what is this feature and how itis formed?
Name two (2) geophysical methods that are often used in SiteInvestigation to detect the presence of these geological particularfeature in limestone?