On Figure 15.3, above, label where you observe a steeperslope and a gentler slope.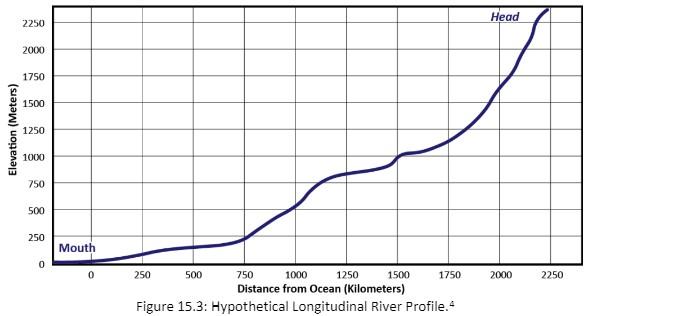 a. In what part of the river would you expect to see thegreatest amount of erosion taking place? Explain your response inone sentence. Be sure to consider the river's gradient andvelocity.
b. Where would you expect to see deposition of sediment? Explainyour response in one sentence. Be sure to consider the river'sgradient and velocity.
c. What happens to transported materials in a river, once theriver reaches the mouth (flowing into a lake or ocean) and themovement stops? What type of feature is created? Explain yourresponse in two to three sentences. Hint: consider what feature isfound at the mouth of most major rivers throughout the world.
Area of Active Channel x Velocity = StreamDischarge
4.5 m2 x 1.4 m/sec = 6.3 m3/sec
d. Now you try! Assume you and some classmates have surveyed astream and found the active channel to be 7.6 meters squared. Theaverage flow rate is 0.75 meters per second.
i. How many cubic meters of water are passing that location persecond? Show your calculation.
ii. How much water is passing that location per minute? Showyour calculation.