his is the first part of the Supply Chain Management CourseProject. Overall the project assignment aims to direct students tocreate a supply chain structure.
As part of homework assignment, you are required to:
Determine your supply chain's competitive strategy (You canread the section on textbook about different competitive strategiesin some example supply chains)
Once you determine your competitive strategy than you arerequired to select a distribution network design (You can selectone of the six designs given in Chapter 4 or you can create yourown distribution network design.
You are required to select a product family consisting of fourproducts for your distribution network, products(s) should besimple assemblies with a basic bill of material structure. You canchoose simple products consisting of only a handful of components.For example a bill of material for Office table is given below, ifyour part family consists of four parts with each part being adifferent Office table, for example Part A: Short Office table,Part B: Wide Office Table, Part C: Four Legged Table and Part D:Long Office Table.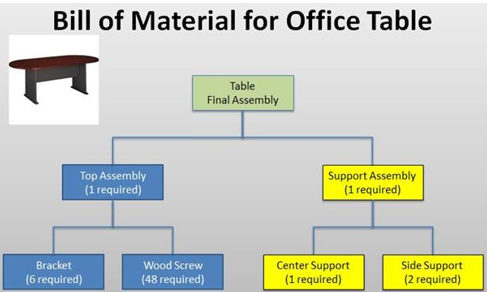 A. Once the product, distribution network and product(s) areselected you are required to select one or more suppliers for eachof the product components.
B. As part of the homework assignment you are required to submit:
A paragraph long competitive strategy for your supplychain.
What is the product family that you are planning to produce.What are the individual products in that product family. (Forexample: If your product family consists of respirator type ofmasks than perhaps you have four product types N95, FPP3, FPP1,FPP2with individual components and bill-of-material each creating aproduct family). Present the bill-of-material of one of theproducts in your product family.
Having a product family consisting of multiple products in yoursupply chain is important as you will use them for aggregateplanning and master production scheduling later on.
A short description about implied demand uncertainty and supplyuncertainty about your supply chain
A short description about how responsive or efficient do youbelieve your supply chain will be within theresponsiveness/efficiency spectrum.
How many retail locations (if your model contains any of thefollowing), pickup sites, manufacturers, cross docking distributioncenters, warehouses does your model include.
What is the transportation mechanism (Package carrier deliveryor your own fleet etc.)
Do you have a bricks and mortar retail store (physical store)approach or do you have online sales. A decription of your retailmechanism.
How many suppliers do you think is necessary for each productand overall. Where will your suppliers be located?
How many manufacturing plant locations are you considering foryour product. Are you going to open a single high capacity plant orseveral manufacturing plants with low capacities.
Map the locations of your supply (suppliers) and demand regions(retail stores) on the map of the country which your supply chainwill be located. Since you will be using these locations in thenext part of the homework.
REFRENCE
Supply Chain Management Strategy, Planning, and Operation sixthedition Sunil Chopra • Peter Meindl — Global edition